Sammy Wanjiru is a name most people probably don't recognize. Being a long distance runner rarely is accompanied with fame in this part of the world afterall. Unfortunately, he won't get a chance to add to his fame or records due to his
strange and unexpected death
this week. Think Steve Prefontaine only with the ability to break down time barriers that were believed impossible as recently as five years ago.
Like most runners Wanjiru began running track as a teenager. He was very successful in the 10,000m and his coaches wisely realized he had potential to dominate longer distances. At the age of 18, two weeks after destroying the junior 10,000m record by 23 seconds, Wanjiru set the World Record in the half-marathon in Rotterdam (a fast course). His official time is listed at 59:16 which was one second faster than Paul Tergat's previous record. This got everyone's attention. I remember talking to my friends about how impressive a record it was--and by such a young person! If a bunch of kids in the midwest noticed then imagine the publicity in Europe and Kenya. Sammy Wanjiru was officially on the map.
Evidently Wanjiru decided he could become a great marathoner also. He ran London in 2008, a good warmup for the upcoming Olympics, and finished in second place with a great time of 2:05:24. He more than held his own in a decent field that included Ryan Hall, Richard Kiplagat, and Abderrahim Goumri.
Later that year, he would accomplish a feat in which he may be most remembered for. In a grueling race with temperatures at an uncomfortably high level, Wanjiru blazed through the marathon at a pace that had never been accomplished at an Olympics. Finishing in first place by over 30 seconds, Wanjiru not only took home Kenya's first ever marathon gold medal but he also shattered the Olympic record by over three minutes. Still, Wanjiru wasn't done.
In 2009 Wanjiru went back to London and this time ran a 2:05:10, winning the race and setting a new course record. This affirmed his status as one of the top three marathoners in the world. In the fall Wanjiru went to Chicago and with me in attendance (and John Krumsee only 32 minutes behind) ran the fastest marathon ever on American soil. According to
Wikipedia
, that win moved him to number one in the World Marathon Rankings and with it a nice income of $500,000. Wanjiru was able to defend his title in Chicago this past year giving him three wins in the World Marathon Majors plus an Olympic gold medal in just over two years.
In my opinion, Wanjiru was on his way to becoming the greatest long-distance runner of all-time. Though he does not hold any world records in the marathon (nor any top 10 times for that matter), he accomplished more things by the time he turned 24 than most elite runners do in their entire careers. Considering elite marathoners tend to peak in their late twenties and early thirties it seems there was a good chance for improvement. He stated he felt he was ready to challenge and break the impossible "two-hour barrier" and I believe if anyone on this Earth could do it it would be Sammy Wanjiru.
Instead the world is left stunned by his death while wondering what could have been. We'll never know but it's fun to imagine.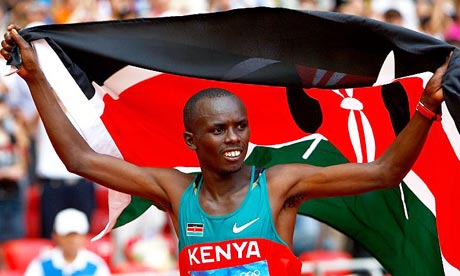 World Junior Record for 10,000m (26:41.75)
Three time World Record Holder in half-marathon (58:33)
2009 & 2010 Chicago Marathon winner
2009 London Marathon winner
2008 Olympic Record for Marathon
2009 Ranked #1 in World Marathon Rankings
Personal record in marathon: 2:05:10 (London 2009)