Two years ago I did a post about players on the Hall of Fame ballot and it received some positive feedback so I thought I'd do one this year too.
I'm sure we'll hear plenty about Barry Larkin this summer as the lone inductee - and he is a worthy inductee - but this is more of a chance to glance at everyone who didn't make it. Each writer gets to vote for up to ten players or as few as zero. So, if I had a ballot I couldn't vote for the top fifteen guys I feel are Hall worthy. Below is the shakedown.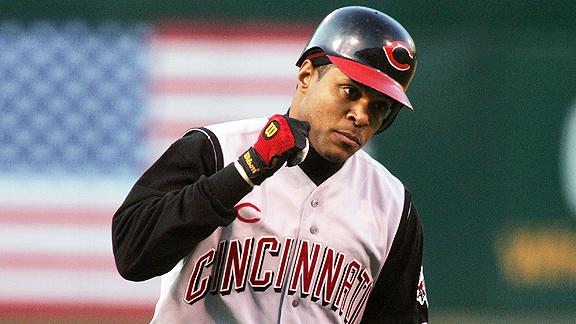 Stand up, Barry Larkin, this Bud's for you.
Barry Larkin
, 86.4%: Larkin was arguably the best shortstop of the 90's though he's often forgotten when discussing great shortstops of his era. I'm sure he'll make a nice speech.
Jack Morris
, 66.7%: I'm not a fan of his candidacy but it now seems inevitable that he'll be enshrined one day. His career
ERA+
is 105. Without researching I'm guessing that would be the worst of any Hall of Famer.
Jeff Bagwell
, 56.0%: I don't comprehend why he hasn't been inducted. I'm assuming many voters believe he was a steroid user because he was muscular and hit for power. This is a man who has never been on any lists and was not investigated in the Mitchell Report even though his team trainer was the star witness. He was a good base runner, excellent fielder and his 1994 season is one of the greatest ever by someone not named Bonds or Ruth.
Lee Smith
, 50.6%: Lee Smith was a pretty darn good reliever for a long time which is how he was able to amass 478 career saves. Unfortunately for him relief pitcher is the toughest position to earn enshrinement with only five relievers in the HOF (Wilhelm, Fingers, Eckersley, Gossage, Sutter). Now that his saves record has been broken by two people it's going to be even harder for him to get in.
Tim Raines
, 48.7%: This is a significant gain; Raines has more than doubled his vote total since 2009 when he only managed 22%. Did you know Tim Raines's career OBP is .385? By comparison, Tony Gwynn's is .388 and last year's inductee Andre Dawson sports a career .325 mark. Just sayin'.
Edgar Martinez
, 36.5%: Edgar's holding steady in the mid 30's. He's a tough case for a lot of voters since he's the first pure DH to warrant serious Hall consideration. He led the league in batting twice (in the
Kingdome
!), OBP three times, runs scored twice, doubles twice, runs and RBI once, and finished with a career
OPS+
of 147. The man could hit.
Alan Trammell
, 36.8%: What's this, a sudden spike in votes for Trammell? It's his eleventh try on the ballot so it may be too little too late but it's something. Bill James ranked him as the 9th greatest shortstop of all time in his 2000 Baseball Abstract.
Fred McGriff
, 23.9%: 493 career home runs ain't what it used to be. I'll have a
Keltner List
up for McGriff later but as of now his prospects don't look good.
Larry Walker
, 22.9%: It's easy to forget how good Walker's statistics are. He won three batting titles, an MVP, seven Gold Gloves, and was a five time All-Star. That's a pretty good resume. Still, we need to take his numbers with a grain of salt since he played in Colorado in the pre-Humidor era. He's a good candidate for a future Keltner List post.
Mark McGwire
, 19.5%: 583 career home runs, 12 time all-star, led the league in OBP twice, slugging four times, and OPS+ four times. Won a gold glove and finished in the top six in MVP voting five times. Alas, there's a steroid scandal and if weren't for that he'd be in.
Don Mattingly
, 17.8%: Don Mattingly is sort of like Nomar Garciaparra. He was great in his peak years but otherwise just another player. Like Nomar, Mattingly had some injuries contribute to his downfall. If not for that he may have been another Hall of Famer. Always "what if."
Dale Murphy
, 14.5%: This is his fourteenth year on the ballot meaning it's 2013 or bust. He has a pretty solid case to be inducted but when his prime was over so was his career.
Palmeiro: "I have never used steroids." This is all
you need to know about why he's an afterthought.
Rafael Palmeiro
, 12.6%: Career longevity led to 3020 hits and 569 home runs.
Steroids
led to him only getting 72 votes.
Bernie Williams
, 9.6%: I figured he would do a little better being a Yankee and all. See how I feel
here
.
Everybody mentioned thus far will return on 2013's ballot. The players listed below failed to receive 5% of the vote and won't get another chance for induction.
Juan Gonzalez
, 4.0%: I'm pretty surprised he didn't make it over the 5% threshold. He hit 40+ homers five times and had 157 RBI in 1998. A two-time MVP,
even with steroid rumors
he deserved better.
Vinny Castilla
, 6 votes: Castilla was a good defensive third baseman who had some serious pop. In 1996 and 1997 he finished with the exact same triple crown stats (.304/40/113) which is really weird. He hit 30+ home runs six times.
What happens when you win 2 MVP's, hit 40 home runs
five times but are rumored to have used PEDs? You get
kicked off the ballot after two years.
Tim Salmon
, 5 votes: Salmon is probably the best player to never make an All-Star game. He finished just one homer shy of 300.
Bill Mueller
, 4 votes: Pedro Gomez of ESPN
voted for you
and not Tim Raines! A good OBP guy who was underrated until he had his career year with Boston. After that he became overrated.
Brad Radke
, 2 votes: One of the best pitchers in Twins history, Radke had impeccable control and was a 20 game winner once.
Eric Young
&
Javy Lopez
, 1 vote: Lopez probably deserved more while Eric Young should be happy to get one.
Jeremy Burnitz, Ruben Sierra, Phil Nevin, Brian Jordan, Terry Mulholland, and Tony Womack* - 0 votes. Congrats for being on the ballot.
*
Womack somehow made the cut over superior players like Edgardo Alfonzo.