Have you ever been home late on a Saturday night and turned the channel over to ESPN2 or ESPNU and seen some college basketball being played in what looked to be a high school gym? Odds are you were watching a West Coast Conference game. The WCC is comprised of nine small private schools - most of which do not have football - with strong religious affiliations. Gonzaga is the most well known to the casual basketball fan. After all, they've made 13 straight NCAA Tournament appearances winning at least once in ten of those years.
Gonzaga's not the only school to make an NCAA appearance during this run, either. Here's a quick rundown of who has qualified out of the WCC since 1999:
| | | | |
| --- | --- | --- | --- |
| Year | Schools (seed) | Year | Schools (seed) |
| 1999 | Gonzaga (10) | 2006 | Gonzaga (3) |
| 2000 | Gonzaga (10), Pepperdine (11) | 2007 | Gonzaga (10) |
| 2001 | Gonzaga (12) | 2008 | Gonzaga (7), St. Mary's (10), San Diego (13) |
| 2002 | Gonzaga (6), Pepperdine (10) | 2009 | Gonzaga (4) |
| 2003 | Gonzaga (9), San Diego (13) | 2010 | Gonzaga (8), St. Mary's (10) |
| 2004 | Gonzaga (2) | 2011 | Gonzaga (11) |
| 2005 | Gonzaga (3), St. Mary's (10) | | |
As the chart shows, six times in the past thirteen years the WCC has sent multiple schools to the Big Dance. Not bad for a mostly obscure conference relegated to playing Saturday night games on the little brother channels of the ESPN network. Prior to this season the WCC was an eight-member conference but newcomer BYU (basketball only) adds some clout to the hardwood. The WCC isn't as deep as the Mountain West but St. Mary's and Gonzaga present challenges just the same. Last year the Cougars earned a three seed and while that's not going to happen this year it's not unreasonable to think that BYU makes this a three-bid league. So the next time you're flipping through the channels in the middle of the night and you see a couple of WCC schools battling it out stay a while and take it in. There's some pretty good basketball out there.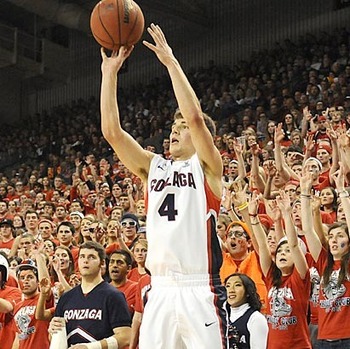 Kevin Pangos looks to lead Gonzaga to an incredible
14th straight NCAA Tournament appearance.
Now on to the Power Rankings:
St. Mary's 14-2 (3-0) - How impressive was St. Mary's victory over BYU? According to kenpom.com, BYU still ranks 30th in the nation in defensive efficiency even after giving up 98 points to the Gaels. That's some offense.
Gonzaga 12-2 (2-0) - The Zags continue to prove that the road to a WCC conference crown goes through Spokane. A 39 point victory over Portland was a great way to start the conference season.
BYU 13-4 (2-1) - BYU got a reality check when they visited St. Mary's last week. The best win on their schedule is still Oregon so they'll need to beat one of the top dogs to secure an at-large berth.
Loyola Marymount 8-7 (1-1) - Loyola played BYU tough and has a couple of nice wins against UCLA and St. Louis but there is a clear divide between #3 and the rest of the conference.
Pepperdine 7-7 (1-2) - Pepperdine had people believing they could be a spoiler in the WCC until they lost by 29 to St. Mary's. Losing badly at Gonzaga may even hurt their chances of a CBI invite.
Santa Clara 8-6 (0-1) - Thursday night's loss was not the way the Broncos wanted to start the year. A trip to Spokane is next meaning Santa Clara is likely going to be staring 0-2 in the face. This team is better than that and I expect they'll get their act together and make a push for fourth place.
San Francisco 10-6 (0-2) - San Francisco continues to play nobody in the non-conference schedule which probably hurts them when they run into the likes of Gonzaga/St. Mary's/BYU. They may be the fourth best team in the conference or the 8th best. It's too early to really tell but 0-2 puts you closer to last than first.
San Diego 5-9 (0-2) - San Diego's best win to this point is Maine and only two of their losses are by single digits.
Portland 4-11 (1-1) - Portland has played a respectable schedule with few cupcakes but no real world beaters either. With only three wins they're stuck in the basement though they're possibly better than San Diego.