I recently read on ESPN.com that the Marlins are looking to make a splash in free agency and have hosted Albert Pujols.
At the end of his visit the Marlins made a contract proposal which they believe to be competitive in the hopes he will be in uniform next season to kick of their new stadium.
Now Miami (doesn't that sound weird?) is looking at Jose Reyes and has recently said they would like to sign him
in addition to
Albert Pujols.
They are also considered the odds on favorite to land Cuban defector Yoenis Cespedes.
Last season the Marlins ranked 13
th
in the National League in players salary.
This was actually an improvement as they ranked 16
th
(last), 16
th
, and 14
th
in 2008-2010. How can a team in their economic situation expect to be able to sign one – let alone two – free agents this offseason?
Or is this just a marketing ploy to show the fans that they're trying to improve the club as they begin the next chapter in the franchise's history?
Follow the jump to see how realistic these aspirations really are.
Early indications are Marlins Ballpark is an infinite
improvement over Sun Life Stadium.
As mentioned in the previous paragraph, the Marlins will be moving into a new stadium in Miami (Little Havana neighborhood) starting with the 2012 season.
The old stadium was literally an awful place to catch a game and evidently the people of South Florida agree since the Marlins
haven't averaged more than 20,000 fans per gamesince 2005
, ranking
last in the National League
numerous times over that time period.
Sharing a stadium with an NFL team does not add to the aesthetic appeal of any stadium.
The new stadium will seat 37,000 and will even have a retractable roof.
The roof is key as it's no secret one of the factors keeping fans away from games is the awful Miami weather.
The roof should also solve the problem of rain-outs and rain delays.
Over the past decade the Marlins had ten games
canceled due to rain
with numerous others delayed. Expect Miami fans to find the Miami Stadium more accessible, more aesthetically pleasing, and just a more comfortable place to watch baseball than Sun Life Stadium.
It's well documented new stadiums see an increase in attendance the first two years but when considering what a significant upgrade this stadium is, attendance should still be greater than it was once the aura of the new structure wears off.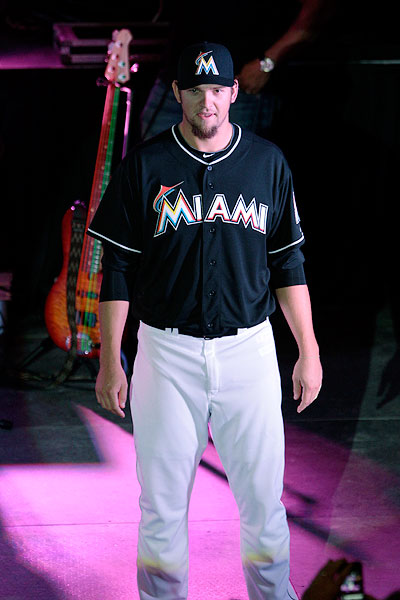 What, no teal?!
In addition to the new stadium, the Marlins know they can increase their revenue stream with new merchandise.
When the Marlins take the field on Opening Day they'll be doing so with uniforms that are radically different than the ones worn previously throughout their 19 year history (they'll be 20 in 2012); those
teal and black tipped jerseys
will become obsolete.
Fans will want to purchase new memorabilia to correspond with their team's new look(s).
I don't think it would be unreasonable to expect a 50% increase in jersey sales in the next two seasons, not to mention all the other items that can be created out of this jersey/stadium switch.
This is an excellent marketing tactic employed by the team and one guaranteed to increase sales revenue in the short term future.
You might be asking yourself, "What fans?
You already said the Marlins routinely rank dead last in attendance."
Believe it or not, but in years past the Marlins have had strong TV viewership often ranking in the middle of the pack. Fox Sports televises games throughout the state of Florida making games available to almost 19 million people with 97% of households owning a TV or computer (www.census.gov).
Unfortunately in 2011 ratings took a big hit and
the number of viewers dropped 23%
. One way to increase the number of people watching is to put a competitive team on the field.
While optimism abounds in March and April there are many realists out there who aren't likely to tune in just because their team hasn't been eliminated yet.
Therefore, if the team signs a high profile player or two fan interest is likely to increase both because of the player himself and because this player should improve team performance.
The Marlins have been waiting for this opportunity for years and are taking appropriate measures to increase their revenue stream in 2012 and beyond. The difficult part will be actually getting players to sign.
This is a team that hasn't been to the postseason since 2003 and is well known for selling off players in order to maintain the owner's desired profit margin.
All it takes is one big signing, however, and other players may be willing to follow.
After all, the team has already made a splash by trading for manager Ozzie Guillen.
I, for one, believe the Marlins are serious in their attempts to sign an elite player.
Getting Albert Pujols may be a pipedream but expect the Marlins to be linked to several free agents this offseason.