We've gotten some decent traffic on the site when putting a new post up about mid-majors. As a follow up to yesterday's post discussing my conference predictions and NCAA Tournament predictions, I've construed a similar post for the most successful mid-majors. Take a look below:
Colonial Athletic Association
Conference Champ: VCU
Other contenders: George Mason, Georgia St., Old Dominion, Drexel
Multiple Bids?: 50%
We all remember what VCU did last season and though they lost several starters they appear to be the best team. Georgia St. and George Mason are also right there and it's anybody's guess who wins the league. Based on the success of this conference in past NCAA Tournaments I could see a bubble team getting the benefit of the doubt on Selection Sunday.
Horizon League
Conference Champ: Cleveland St.
Other contenders: Milwaukee, Butler, Valparaiso.
Multiple Bids?: 25%
Cleveland St's loss to South Florida may prevent them from earning an at-large bid if they fail to win their conference tournament. Still, they've looked the best in the early going and remain my pick to win their league. Milwaukee looks to be their biggest challenger but I refuse to discount Butler after their success the last two seasons. Valpo may be a stretch but have already beaten Butler to start the conference season.
Ivy League
Conference Champ:
Harvard
Other contenders:
Princeton, Yale
Multiple Bids?:
No
As good as Harvard has been this year there's little competition for conference bragging rights. Princeton and Yale are respectable but neither have a quality win.
Missouri Valley
Conference Champ: Wichita St.
Other contenders: Creighton, Northern Iowa, Missouri St., Indiana St.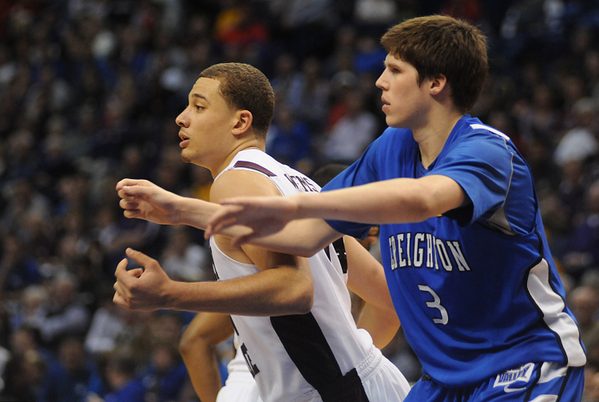 MVC basketball is going to be a lot of fun this season.
Multiple Bids?: Yes
The MVC is back. The last time it was this loaded was in 2006 when it sent four teams to the dance (and many felt five should have gone). This season looks to be a three horse race with Missouri St. and Indiana St. lurking in the background. Getting three schools in the dance is a big deal but there's potential for more - depending on the ACC and Pac 12 this season - unless someone loses to Southern Illinois.
Ohio Valley
Conference Champ: Murray St.
Other contenders: Austin Peay
Multiple Bids?: No
Murray St. is far and away the class of the league and has aspirations of an undefeated regular season. Finishing 14-2 or better will be enough to earn them an at-large bid should they fail to win the league tournament. Austin Peay is only 3-9 so far but have played a tough schedule. I see them improving as the season progresses.
West Coast Conference
Conference Champ:
New Mexico St.
Other contenders:
Utah St., Nevada
Multiple Bids?:
15%
Utah St., long the dominant team in the conference, may struggle to win the league in a rebuilding year. New Mexico St. already has a quality win over in-state rival New Mexico though they're somehow 0-2 against Southern Miss. Nevada is a weird team that I can't quite figure out. Overall this is not a strong league that will struggle to send multiple schools to the Big Dance.
West Coast Conference
Conference Champ: BYU
Other contenders: Gonzaga, St. Mary's
Multiple Bids?: Yes
This is a three team league where everyone else is playing for fourth place. BYU, after a sluggish November, has begun to play much better and is my pick to win the league. Gonzaga's failure to beat top competition will hurt them when it comes to seeding but I don't see it preventing them from making another appearance in March. St. Mary's begins their rough stretch this week and depending how they fare will determine their odds at which postseason tournament they'll be participating.