Now that my NCAA bracket filled with scratch marks and red ink I think it's time to move on to some baseball. Each year I do a preseason preview for every team and this year will be no different.

The National League East is likely the most improved division in baseball. They didn't lose any high profile players to other divisions and the one big name that changed teams stayed in the division (Jose Reyes). Several key players are coming back from injury and there's a lot of young talent that's beginning to mature. As a Braves fan I'm concerned their model for success won't work unless they make some changes but as a baseball fan it's great to see Washington and Miami are no longer pushovers. Philadelphia is still the team to beat but they're pretty beat up right now making this officially a four team race for two (or three?) spots.

Atlanta Braves
2011 Record:
89-73
2012 Estimated Team Salary: $101.8 million
Highest Paid Player: Chipper Jones - $13 million
Best Player: Brian McCann has been an All-Star every full season he's played.
Best Pitcher: Tommy Hanson made strides towards becoming an ace last season. If he's over the shoulder woes he'll be the man.
Say Hello To: Tyler Pastornicky SS, Drew Sutton INF
Wave Goodbye: Alex Gonzalez SS (Mil), Derek Lowe SP (Cle), George Sherrill RP (Sea), Scott Linebrink RP (StL), Brooks Conrad INF (Mil), Nate McLouth OF (Pit)
Biggest Questions:
1. Was standing pat the right move? The Braves didn't add a single player via free agency or trade this offseason. The club is hoping one of Tyler Pastornicky or Andrelton Simmons will claim the shortstop job with a strong spring now that Alex Gonzalez has taken his .290 OBP to Milwaukee.
2. Is there enough offense to make the playoffs? One of the reasons Atlanta didn't make any moves is because they believe the poor seasons of Jason Heyward, Martin Prado, and the first half from Dan Uggla were aberrations. They'll also get a full season from Michael Bourn who will provide an upgrade in center field. A new hitting coach was hired as insurance for these guys.
3. Will this team be able to overcome injuries? Everyone, even Jones himself, acknowledges Chipper cannot play a full season anymore (he's already being out 3 weeks). If someone like Heyward and/or like Uggla have to miss extended time how will the team be able to cope? The losses of Conrad and McLouth make the bench weaker than last season and put an enormous strain on the starters to stay healthy.
Expectations: I think the offense will be better than last season but the bullpen will take small step back. They'll be in the wild card race all year but in the end will fall just short unless they make a move at the deadline.
The Braves goal this year will be to win one last time
for Chipper. They weren't able to do it for Bobby Cox so
I'm not optimistic this will end any differently.
Probable Opening day lineup:
1. Bourn CF
2. Prado 3B
3. McCann C
4. Uggla 2B
5. Freeman 1B
6. Heyward RF
7. Hinske LF
8. Pastornicky SS
Miami Marlins
2011 Record:
72-90
2012 Estimated Team Salary:
$110 million
Highest Paid Player:
Hanley Ramirez - $15 million
Best Player:
34 home runs from a 21 year old is very impressive (
Predicted!
). This is the year Giancarlo hits 40.
Best Pitcher:
Josh Johnson is a perennial Cy Young candidate but his downfall is his health. If the team gets a full season out of him it'll be in the playoff hunt.
Say Hello To:
Jose Reyes SS, Carlos Zambrano SP, Mark Buehrle SP, Heath Bell Cl, Aaron Rowand OF, Wade LeBlanc RP, Chad Gaudin RP, Austin Kearns OF

Wave Goodbye:
Javier Vazquez SP (retired), Chris Volstad SP (ChC), John Baker C (SD)
Biggest Questions:
1. Will people come to the new ballpark? This is the number one concern for the organization. After years of frugality, they
opened their pocketbooks in preparation for this season
. By making a splash in free agency and putting the stadium in Little Havana, the team hopes that putting all their eggs in one basket will actually pay off.
2. Can Hanley bounce back? He's regressed three straight years but last year was abysmal by his standards. The team will need him to regain his All-Star form to reach the postseason. Oh, and he'll need to do this while playing a new position.
3. Who's the center fielder? There isn't one. Bonifacio is an infielder and so is Chris Coghlan yet the team is insistent on putting these guys out there. The Fielding Bible rates these two as pretty terrible outfielders so expect the pitchers to lobby for a defensive whiz to help out after being forced to watch them make a mockery of deep fly balls.
Expectations: The amount of ca$h pumped into this team in the offseason and the trade for Ozzie Guillen put this team in "win-now" mode. A winning record should happen but the playoffs will be tough with Atlanta, Philadelphia, and Washington in their division.
Though adding a great player like Jose Reyes made the
most headlines, let's not forget that Stanton is the one
with true superstar potential.
Probable Opening day lineup:
1. Reyes SS
2. Infante 2B
3. Ramirez 3B
4. Stanton RF
5. Morrison LF
6. Sanchez 1B
7. Buck C
8. Bonifacio CF
Probable Rotation/Closer
1. Johnson
2. Buehrle
3. Sanchez
4. Nolasco
5. Zambrano
Cl: Bell

New York Mets
2011 Record: 77-85
2012 Estimated Team Salary: $106.2 million
Highest Paid Player: Johan Santana -$24 million
Best Player: With the losses of Carlos Beltran and Jose Reyes it's David Wright by default even if he's no longer an All-Star.
Best Pitcher: Jon Niese or R.A. Dickey, I don't know which. The rotation isn't pretty.
Say Hello To: Frank Francisco Cl, Rob Johnson C, Jon Rauch RP, Ramon Ramirez RP, Ronny Cedeno SS, Andres Torres CF
Wave Goodbye: Jose Reyes SS (Mia), Angel Pagan OF (SF), Jason Isringhausen RP (LAA), Willie Harris OF (Cin), Chris Capuano SP (LA), Ryota Igarashi RP (Pit), Ronny Paulino C (Bal)
Biggest Questions:
1. How healthy is Johan Santana? No pitcher has ever come back from labrum surgery and performed at a level resembling their pre-sugrery self. Will Johan be the first? I'm betting no but 75% of Johan might be the best pitcher on the staff.
2. Will David Wright be traded this year? The Mets are in full rebuilding mode and Wright is their biggest trade chip. Moving him would net some good prospects. His name will probably be thrown around in July but nothing will happen until the offseason.
3. Just how strapped for cash is the organization? When word came out that Jose Reyes wasn't offered a contract because the Mets couldn't afford him or any other decent free agents people began to take their financial situation seriously. Never trust a Madoff.
Expectations: This is a bad team playing in a good division. I don't think they'll lose 100 games but 95 losses seems reasonable.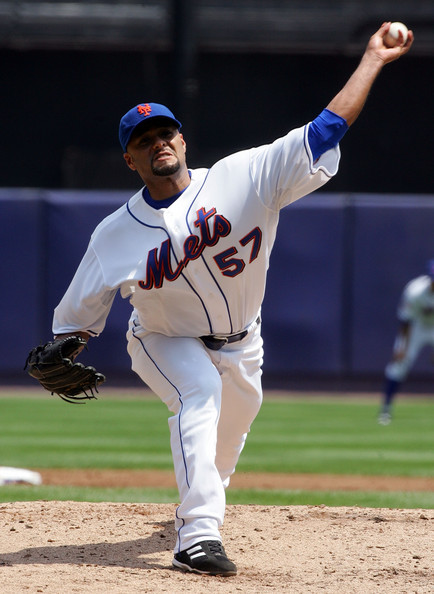 Johan Santana is a great example of why it's
not a good idea to give even great pitchers
long term contracts.
Probable Opening day lineup:
1. Torres CF
2. Murphy 2B
3. Wright 3B
4. Bay LF
5. Davis 1B
6. Duda RF
7. Thole C
8. Tejada SS
Probable Rotation/Closer
1. Santana
2. Niese
3. Dickey
4. Pelfrey
5. Gee
Cl: Francisco
Philadelphia Phillies
2011 Record: 102-60
2012 Estimated Team Salary: $179.5 million
Highest Paid Player: Cliff Lee - $21.5 million
Best Player: Even though his skills are beginning to erode, Chase Utley is still the best everyday player on the team. Having him healthy is key especially with Ryan Howard out.
Best Pitcher: Roy Halladay is the obvious answer here though Cliff Lee is not far behind.
Say Hello To: Jim Thome 1B, Ty Wigginton 1B/3B, Jonathan Papelbon Cl, Laynce Nix OF, Juan Pierre OF
Wave goodbye: Roy Oswalt SP (FA), Ryan Madson Cl (Cin), Brad Lidge RP (Was), Raul Ibanez LF (NYY)
Biggest Questions:
1. When will Ryan Howard return? No one is certain if he'll be back in June or if it will be after the All-Star break. The Phillies probably don't need him to make the playoffs but with the team on the hook for $20 million a year until 2016, a healthy Howard will go a long way to settling management's stomachs.
2. Can Jim Thome still be an everyday player in the National League? Thome proved he is an effective player in a part time role but the last time he played the field everyday was 2005. Even then he suffered an injury which limited him to 59 games and a .207 batting average.
3. Is Dominic Brown able to be an everyday player? Last season this question was "can Brown be an impact player?" but the team was so disappointed in his play they sent him to AAA for most of the year. He's just 24 but this may be his last chance before the Phillies move on.
Expectations: This should be a World Series contender but with the uncertain health of the infield and with other teams in the division improving nothing is a guarantee. Anything short of reaching the NLCS, however, and management may be looking for new jobs come 2013.
Both Utley and Howard will miss the start of the season
and are out indefinitely. We know the pitching is good, but
will there be enough offense?
Probable Opening day lineup:
1. Victorino CF
2. Polanco 3B
3. Rollins SS
4. Pence RF
5. Thome 1B
6. Brown LF
7. Ruiz C
8. Galvis 2B
Probable Rotation/Closer
1. Halladay
2. Lee
3. Hamels
4. Worley
5. Blanton
Cl: Papelbon
Washington Nationals
2011 Record: 80-81
2012 Estimated Team Salary: $88.5 million
Highest Paid Player: Jayson Werth - $13 million
Best Player: Ryan Zimmerman is a bit overrated but that doesn't mean he's not a good player.
Best Pitcher: Stephen Strasburg. Here's to hoping he can pitch a full season.
Say Hello To: Gio Gonzalez SP, Edwin Jackson SP, Mark DeRosa UT, Jason Michaels OF, Chad Durbin RP, Brad Lidge RP
Wave Goodbye: Alex Cora INF (StL), Livan Hernandez SP (Hou), Jonny Gomes OF (Oak), Laynce Nix OF (Phi), Ivan Rodriguez C (FA), Todd Coffey RP (LA), Brian Bixler UT (Hou)
Biggest Questions:
1. How good is the rotation? Expect there to be inconsistencies now that Gio Gonzalez is pitching away from Oakland permanently and Edwin Jackson is here, but Jordan Zimmermann and Stephen Strasburg (health permitting) are an excellent 1-2 punch.
2. Will the bullpen be able to protect leads? This is a good question. The back end appears set with Drew Storen and Tyler Clippard but the middle guys are known to spring leaks every now and then. Management needs to protect their young starters so expect middle relief to get a lot of innings.
3. When will Bryce Harper make his MLB debut? The kid just got sent to AAA which is amazing considering he's still a teenager. I'm not sure how good of an all around player he'll be but the power is real and it's scary.
Expectations: Last season the Nationals took a huge step forward by nearly finishing with a winning record. The offseason additions of Gio Gonzalez and Edwin Jackson plus the return of Stephen Strasburg make the rotation one to be reckoned with. Making the playoffs is a realistic goal.
Strasburg is back but unless he alters his motion he's
going to carry the same injury risk going forward.
Probable Opening day lineup:
1. Desmond SS
2. Espinosa 2B
3. Zimmerman 3B
4. Morse LF
5. LaRoche 1B
6. Werth RF
7. Ramos C
8. Bernadina CF
Probable Rotation/Closer
1. Strasburg
2. Gonzalez
3. Zimmermann
4. Jackson
5. Lannan
Cl: Storen